What is Energy Star?
Energy Star is a government backed program focused on protecting the environment through superior energy efficiency. Founded by the Environmental Protection Agency (EPA) in 1992, the Energy Star label can now be found on major appliances, equipment, lighting, electronics, and cover new residential and commercial buildings.
Visit the Energy Star website here!
Why is the Energy Star Program so important?
About 15 percent of all greenhouse

gases

are generated from energy usage in houses. One Energy Star labeled home can keep 4,500 pounds of greenhouse

gases

out of our air each year.
What are the benefits to the homeowner?
·

Peace of Mind – Buying or building a home can be complex enough without knowing the details about energy-efficient construction.
·

Lower Utility Costs – Homeowners can expect to save about $200-$400 dollars annually on their utility bills. Over the average 7 to 8 years you may live in your home, this equates to thousands of dollars saved.
·

A more Comfortable/Quieter Home with Better Performance – A properly built energy efficient home delivers better protection against cold, heat, drafts, moisture, pollution and noise.
·
Energy star labeled homes are truly energy efficient. -
No cheap talk about Energy Efficiency. We prove our homes are efficient through 3rd party verification.
·

Smart Investment/Higher Resale – By choosing a home with the Energy Star label, you can be confident that it will have a continually increasing valued feature when the time comes to sell.
·

Environmental Protection and Helping to Create a Better Future – Energy produced by your home comes from the burning of fossil fuels at power plants, which contributes to smog, acid rain and global warming. Simply put, the less energy we use in our homes, the less air pollution we generate.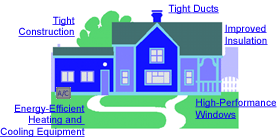 What Qualifies a Home for the Energy Star Label?
·

High-Performance Windows
·

Tight Construction and Tight Ducts
·

More Efficient Heating and Cooling Equipment
To see some of the techniques used in our 100% committed Energy Star building process, click here.